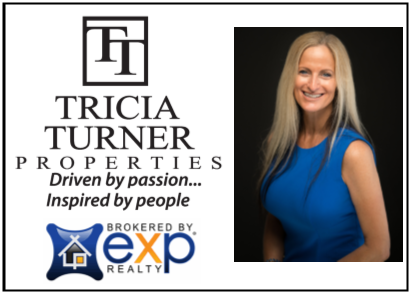 832-334-2671
ABOUT TRICIA TURNER PROPERTIES
Having been in real estate since 1992, we have expertise in both buyer's and seller's markets. We are able to help our clients buy and sell, and create the smoothest transaction possible. Making a move is one of the biggest decisions you'll make, and one of your biggest investments. You want the company best qualified to take you through the process.
Our belief is that every client is different and our focus is on getting the best results each time, while making sure you're comfortable and your expectations are met. Communication is a huge part of that. When buying or listing with us, there will never be a lack of communication, as it is our goal to always keep you involved with what is to come, every step of the way.
We work with a team of professionals to help us through the process, while still giving our personal attention to you from beginning to end.
Our knowledge about the marketplace brings confidence to our clients, along with a wealth of helpful information.  We go the extra mile with our service, and always make our team available to our clients.
Here is a quick summary of the services that we may offer with our listings:
Beautiful sign placed in the front yard
Electronic lock box placed on the property
Appointment with a home stager
Pictures taken by a professional photographer
Advertising on every major search engine for real estate
Personal website for your home
Weekly reports delivered to your email address
Home warranty to help with any repairs that may arise
Open houses performed as needed
Professional Cleaning Upon Move out
We love what we do for a living, and we are hopeful that you will choose TRICIA TURNER PROPERTIES, to help you sell your home.