Eat Sleep Shop Play is the hyper local mobile on-line directory for:
Places to Eat, places to Sleep, places to Shop and places to Play.
Our mobile guide provides detailed visitor information.
Alabama
—–
California
—–
Florida
—–
Georgia
—–
Kentucky
—–
Louisiana
—–
Minnesota
—–
Mississippi
 —–
Missouri / Kansas
—–
Tennessee
—–
Texas
Houston Area:
—–
Washington State
Our printed maps directory is located at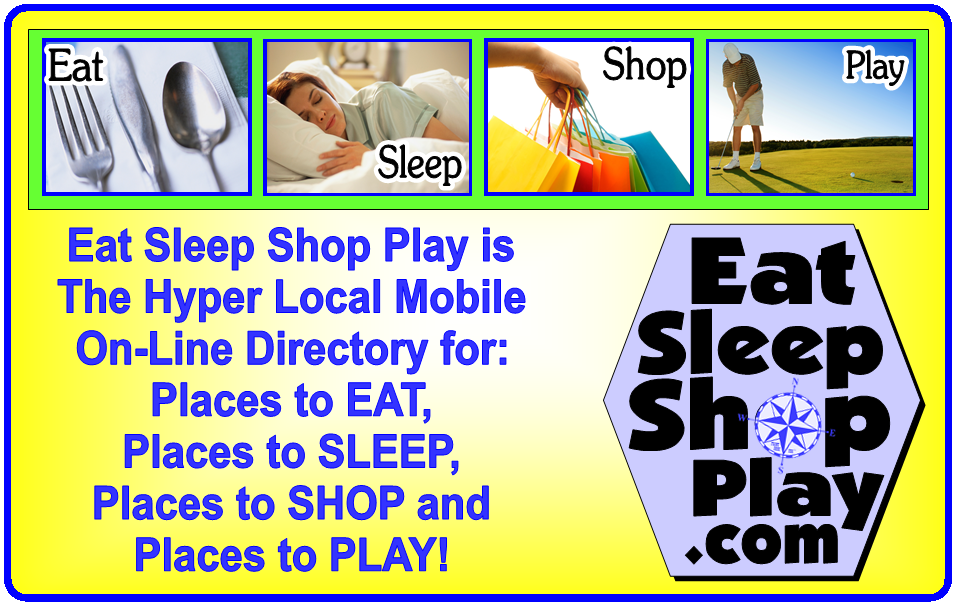 Many of our printed map areas have announcements about how to access this information directly using a QR code on the viewers smartphone.
Local signage, like seen below, offers the hotel guest a quick access to the areas best information.
Our QR codes make it easy for hotel 
guests to find hyper local information arranged in the categories that most concern them.
Eat, Sleep, Shop and Play about the area around them!


Test it for yourself , 
SCAN the QR code above. Or click on one of the banners below.
Licensed publishers enjoy being their own boss, setting their own schedule and earning full or part-time income working from their home.
Yes, you have to have good sales skills. Just like everything else, the better you are the more money you will make.
You use our mobile website travel directory Eat Sleep Shop Play and City-Sports-Scene plus,
local corresponding Facebook pages to build full or part-time income.
If you like to work with the local hospitality industry our site offers a unique opportunity.
Earn as much as $3K  – $5K annually per site.

Multiple sites are common.

There is never a deadline. Work on your site when you want to work.
Hotels like our site because it helps them help their guests
Restaurants like our site because it showcases their business to the hotel guest population in a very simple mobile way.
Our directory uses Google Maps, Twitter feeds, local weather and a corresponding Facebook page to your regular mobile site.
Digital advertising sales and people skills experience are what you would build on.
Feel Free to call us at: 281-224-2427 or Email Us: info@frontdeskusa.com
Learn More Here.