Eat Sleep Shop Play is the hyper local mobile on-line directory for:
Places to Eat, places to Sleep, places to Shop and places to Play.
Our mobile guide provides detailed visitor information.
Alabama
—–
California
—–
Florida
—–
Georgia
—–
Kentucky
—–
Louisiana
—–
Minnesota
—–
Mississippi
Brandon / Pearl / Flowood (Jackson)
Jackson (North) / Ridgeland
Fondren / Downtown (Jackson)
Tupelo
WelcomesYou.com
Vicksburg
WelcomesYou.com
 —–
Missouri / Kansas
—–
Tennessee
—–
Texas
Houston Area:
—–
Virginia
—–
Washington State
Olympia / Lacey / Tumwater / Capital
Our printed maps directory is located at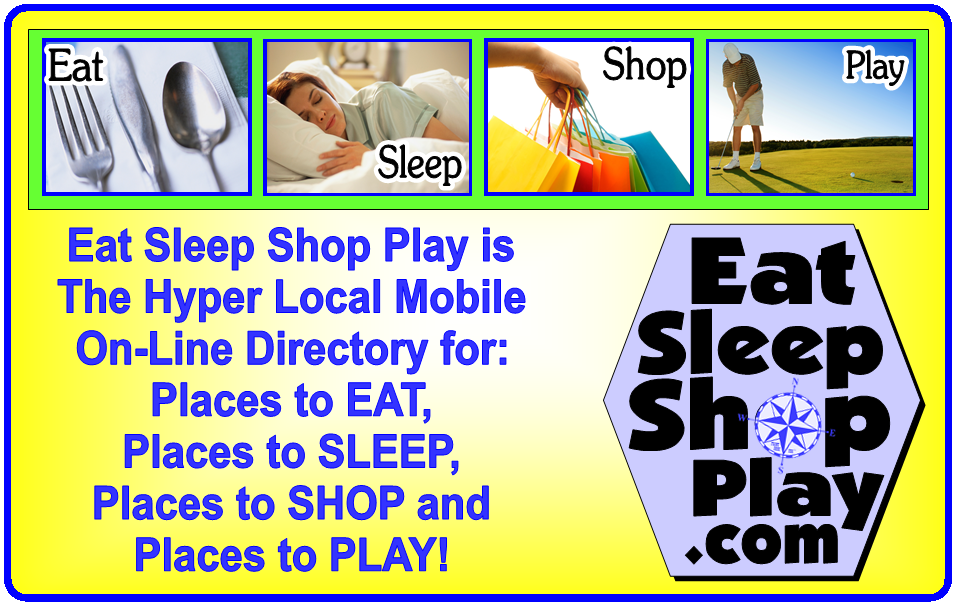 Our printed map areas have announcements about how to access this information directly using a QR code on the viewers smartphone. Or TEXTING a name to our number.
Local signage, like seen below, offers the hotel guest a quick access to the areas best information.
Our QR codes make it easy for hotel 
guests to find hyper local information arranged in the categories that most concern them.
Eat, Sleep, Shop and Play about the area around them!

Test it for yourself , 
SCAN the QR code above. Or click on one of the banners below.
FrontDeskUSA.com, EatSleepShopPlay.com and City-Sports-Scene.com has openings for a Brand Ambassador (BA). BAs can use our brand to promote their brand to a select audience. Our select audience is Hotels and their Guests. @WelcomesYou.com uses specialized marketing materials that allow you to promote your brand and product to the decision maker and consumer.
Your branding (Logo) is displayed on our materials that can drive traffic back to you. Those materials include maps/flyers and signage. Family Friendly local references with useful information. The message is to connect with @WelcomesYou.com using your smartphone. Our mobile website is easy to use and has up to the minute information. The Eat Sleep Shop Play categories make it easy to see highlights. Curated Social Media feeds (Facebook and Twitter) and Google Maps make sure all of the content is fresh, accurate and always up-dated including weather for outdoor activities.
You use our mobile website local travel directory Eat Sleep Shop Play and our local sports directory, City-Sports-Scene plus,
local corresponding Facebook pages to build full or part-time income.
If you like to work with the local hospitality industry our site offers a unique opportunity.
Earn commissions on total site revenues.

Multiple sites are common.

There is never a deadline. Work on your site when you want to work.
Hotels like our site because it helps them help their guests.
Restaurants like our site because it showcases their business to the hotel guest population in a very simple mobile way.
Our directory uses Google Maps, Twitter feeds, local weather and a corresponding Facebook page to your regular mobile site.
Social Media posting and local networking are a must.
Digital local advertising sales and people skills experience are what you would build on.
Feel Free to call us at: 281-224-2427 or Email Us: info@frontdeskusa.com
Learn More Here.