SMS Text Message Marketing is a cost affordable marketing strategy
for medium and small business. Everyone has a smartphone and keeps it within an arm's reach at any point throughout the day! 90% of all texts are read within the first 5 minutes. Watch this short video.
If you stop and think about it, that's an incredibly powerful communication tool all by itself.
Why is SMS communication such a powerful tool?
Because SMS marketing is permission-based.
You're only communicating to a highly targeted group of people who really care about your business and what it has to say! It's also the fastest way to put coupons and special offers into the hands of your customers. With how cost-effective and easy it is, it will soon become a major marketing tool for your business!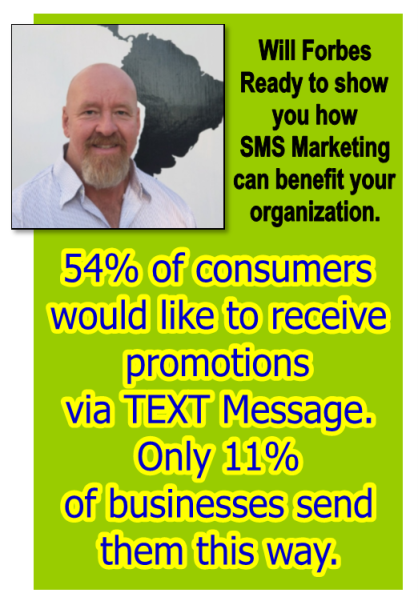 Hello, I am Will Forbes and our company has been helping small business with their promotional advertising messages for more than a decade. We have dozens of markets with text messaging in place that cover hundreds of different brands. We work with Google Maps and Facebook to make sure your SMS program is always growing. Feel free to contact me with questions:
832-535-7269
Soon this marketing program will be one of your most valuable tools.
And for now it is:
Why every business needs at least one SMS Keyword.
When your business reserves a keyword(s), it becomes yours. Create multiple keywords for different ad campaigns or communication needs. When someone texts your keyword to your "800" phone number, they'll get an instant response back that you can easily customize. We call these reply messages "auto-replies".
Communication is important, let your customers know that their safety is important.
Staying connected this way keeps everyone on the same page. Better customer service.
And behind the scenes, staff knows about last minute changes.
Here's how an event reminder looks.

Here is an example of having multiple Text words. Auto-reply is where you get permission.

So many features for this program. Many other applications.

832-535-7269