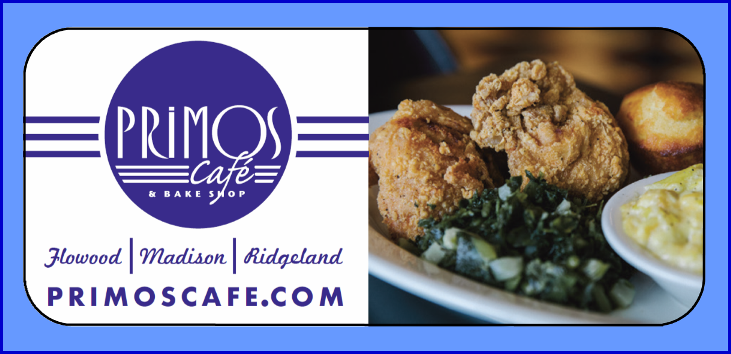 Primo's Cafe, Ridgeland
Primo's Cafe, Flowood
Primo's Cafe, Madison


601-898-3400
Who's excited about their Thanksgiving feast?! ... See MoreSee Less
Play
A big wedge of pumpkin pie and some brown "n" serv rolls with butter would do it for me. Jim Wells.
Warm caramel icing for dipping, savory cheese straws for snacking, and sweet gingerbread men for delighting! Order soon and pick up for Thanksgiving. www.primoscafe.com/holiday Shop online and ship some to a friend! www.primosbakeshop.com
.
.
.
.
.
.
#primoscafe #holidays #shipping #southernfoodforcityfolks #caramelicing #caramel #gingerbreadmen #cheesestraws #mississippi #since1929 ... See MoreSee Less
Best gingerbread men ever!
Gingerbread Men my favorite!
We're all stocked up with our savory fresh-baked cheese straws. The South's Snacking Staple comes in super cute packages! Our traditional shaped cheese straws and our bursts poppers make for the perfect gift. Grab one on the way to your friends' party and celebrate the season bearing gifts! And don't forget, we ship too. Visit primosbakeshop.com today. .
.
.
.
#cheesestraws #snacks #primoscafe #mississippi #shipping #thanksgiving ... See MoreSee Less