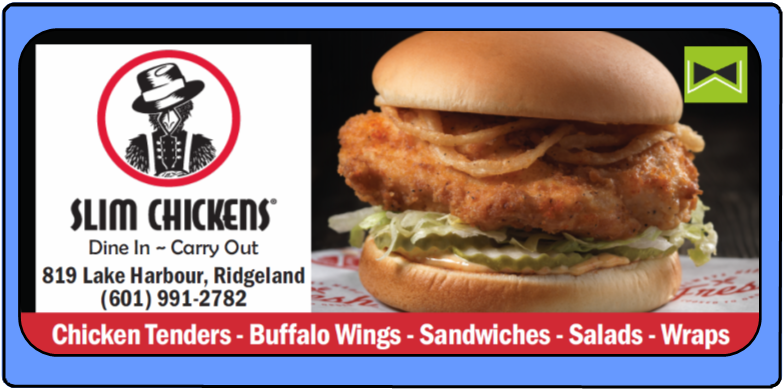 601-991-2782
We are joining restaurants across the country for The Great American Takeout. Today only, get 15% OFF FAMILY MEALS when you order online or on our app and use Code: TAKEOUT ... See MoreSee Less
We are joining restaurants across the country for The Great American Takeout. Today only, get 15% OFF FAMILY MEALS when you order online or on our app and use Code: TAKEOUT ... See MoreSee Less
Tell your lovely Wife we need one up Here!!!
We have curbside pickup available at all locations. Order online, by phone, or through the Slim Chickens app, and we'll take care of the rest with limited-contact curbside pickup. ... See MoreSee Less
When y'all coming out here to Utah?
Imo all locations should be drive thru or curbside pick up right now
I drive a semi, and will be down towards South Haven, MS this afternoon. Can I call and order and then someone bring it out to me? Never tried y'all, but want to!!
Dallas Beasley, road trip to Lebanon!
Can't wait for our Panama city Fla location to open...stoked
Dallas, Texas location is not open at all 😕
Pick up at the closed mall ?
I live nearby the Independence, MO Slim Chickens. I have done the drive-through a few times recently. The staff has always been courteous and the food was hot and delicious. Thanks to all your staff for being available during this crazy and difficult time. It's appreciated. 🌟
So drive-thru and curbside, or only curbside?
Do y'all offer e-gift cards? I'd like to purchase one for my son's teacher but we are really limiting contact
Thank you, Slim! You're the Best!
Are customers allowed to sit outside at your tables to enjoy their lunch?
Came through line today!! Great lunch!! as usual!
I love this place😍,I'm not working so I soooo wish this was closer 👌❤
HELLO this your MOM ? Let's go