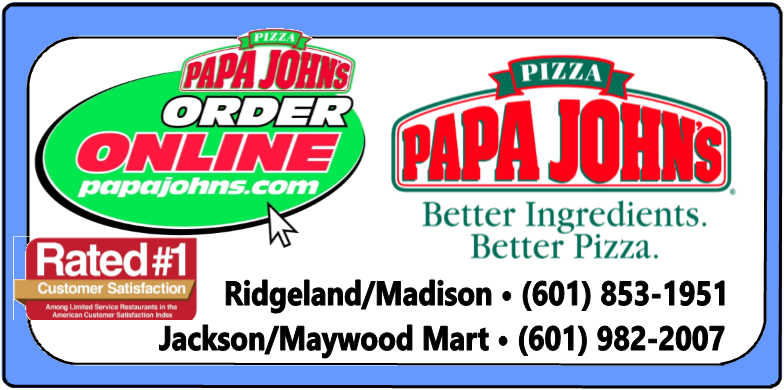 601-982-2007
I Really? So I can order for delivery and get a large 2 topping pizza for $10 but if I want to call in and pickup a large one topping pizza it is $13?? That makes zero sense. I would love to order online and have you all deliver but I can't because you don't offer what I want online (pepperoni on bottom). So I am forced to pay $3 more yet I am doing all the work having to go pick it up. Ridiculous!!!
Why do my Reward Points expire after 6 months? As long as I keep ordering pizza every week or two, that should keep my account active and let me accrue points forever so I can eventually use them all to have a big pizza party.
Bring back the cheeseburger pizza
Do you think i can order a Hotdog-Pizza? (Yes it sounds pervert but it's god damn tasty)
My 2 pizzas, too burned, bitter taste of burned
I want to check if chocolate chip cookie contains egg or not ?? Can you please confirm this ?
The spicy garlic sauce was great, I got 2 in my large box today 😁 however this new reward system really sucks... Wish you guys would change it back. 😔
Wish they deliver to my house
Your store on 6310 west colonial drive Orlando FL #0264 management needs customer service skills. I call to complaint about my pizza and I got more disguised speaking to the manager. Part of the failing sells is your managers
Says the one who can bring free pizza home every night
Just had some delivered, no issues here.....#support43
Order 2 cheese pizzas, hardly put any cheese on it , feel ripped off again. Pitiful I felt robbed again!😡🤬🤬🤬
I love Papa Johns pizza I only order from you guys for years but I am really upset with this new Papa Priority, I already so spend so much money on Delivery Fee and Tip why is my pizza not a priority in the first place?
Passion..for mediocre pizza xD think his passion is just money, let's be honest guys
Was in there yesterday and heard an employee cursing and threatening coworkers so I walked out. I would hope you would not tolerate this behavior. I will not visit or order from you again. That is not a family friendly environment.
Can y'all start delivering to the hood? At least in the day time
Have you started paying drivers tips rather than just keeping them for yourselves like you have been for years yet?
Y'all have got the worst service lately. It's disappointing
You didn't really think we'd celebrate #NationalGarlicDay with just our regular sauce, did you? Today only, we've got a Spicy Garlic Sauce guaranteed to give you the kick you crave. Get yours now! ... See MoreSee Less
Play
I miss our Papa John's 😢. This sauce sounds delicious
I was so excited when I saw this garlic butter yesterday with our pizza and when I opened it up, it was plain garlic butter🤷‍♀️😂 none the less, it was still great!
So delicious!!! Keep it around! ❤️❤️❤️
Super delicious! I'd even pay for this dipping sauce vs having it as the free one
My Hubbs loves your spicy garlic sauce! He's all about the spicy, so he usually gets your buffalo pizza and now he has matching dipping sauce for it. At this rate, I'll be buying pizza daily 😊 Thanks so much for keeping creative and quality choices for my family and I 😊
It's sooo good!!! Keep it!
My pizza got here fast and hot .But there was no sauce was really sad the whole reason I got the pizza was to try it out.
Kosha Patel !! SPICY garlic sauce, come over so we can get some
I actually really liked it. You can see the seasoning in it. Kind of like how you can see the seasoning in dipping oil at restaurants.
Steve Zanoni papa Johns garlic sauce 😬😅
WOW !!!! LOVE IT gonna buy $25.00 worth
Please keep this sauce it's killer!
New spicy garlic sauce is the shiznit 😍
I thought it was national garlic day?
It would be a disgrace to not make this permanent. I paired it with an ultimate pepperoni. Best dinner decision I've made in a while. Two thumbs, way up. 👍👍
It's a good thing you have an entire day to celebrate, it takes that long to get a pizza from you.
Just had this and it's amazing! I hope yall keep it on the menu!
Can't wait for you to make this permanent! 😉😁🔥