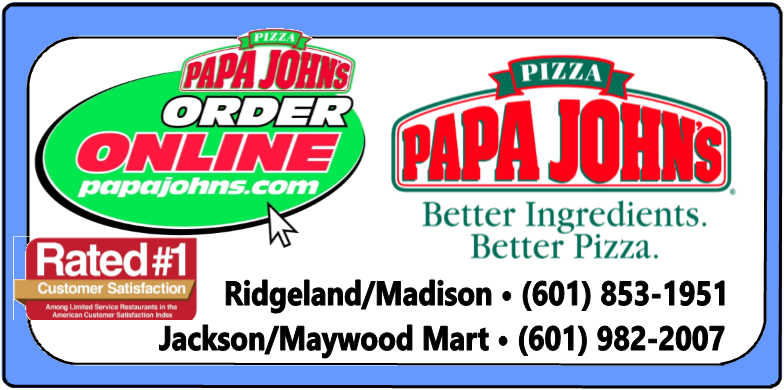 601-982-2007
Ever wondered what life would be like if you could web-sling? Well, wonder no more. Scan our Snapcode and check out #SpiderManFarFromHome, in theaters now. ... See MoreSee Less
Tray Stay KoolnReal Washington yalla
Is putting spiderman on the box of crappy pizza suppose to make it taste better?
Finally decided to try it again. X-Large, total with tip $51, and the crust was soggy and the pizza cold. Never again.
Was excited to get our pizza last Friday. My son loved the super cool box. We love Papa John's, however, this time we didn't love it quite so much. After eating our pizza, starting around 2 hours after and going thru to next day, everyone in my family that ate the pizza was sick. Not so much loving papa John's pizza in my bed after my 6 year old throws it up. At least every body else made it to the bathroom. Guess we will take a break from Papa John's for a while.
Will you just bring back the cheeseburger pizza already
Hello Papa John's! Hey I love you guys, but does this look like a $25 pizza? If you say so, I won't complain, but to me the toppings were used very sparingly.
As if pizza and Spider-Man couldn't get any better. Scan our Snapcode for a Spidey surprise. And check out #SpiderManFarFromHome, in theaters now. ... See MoreSee Less
Ordering from the app.... I see no PAN pizza offered anylonger... has this changed recently...
Ordered this last week with extra cheese and pepperoni, best pizza we've ever had from Papa Johns. Ordered again today hoping to repeat the experience and there absolutely was NOT extra cheese:( Disappointing
This is what was delivered to me today. I called and complained and was told that they couldn't help me. Somebody better run me my coins.
Extra cheesy pizza ..... 👎
I ordered dominos.. got it at a pretty decent time considering its friday. Realized I shoulda ordered papa John's. Dominos pizza is terrible now! 🤮🤮🤮
Every time I try and place an order from work it sends my order to a papa johns location that's like 30 minutes away and they always cancel it, yet there is a papa johns location 5 mins from here but 3 years later and they still can't get it right! I have to order from other pizza companies because Papa Johns is throwing away business because the people that manage their online ordering maps/locations don't do their job!
I must say I am really not a fan of the new method of earning papa points. It takes forever to earn one like nasty dominos pizza. And it's not even enough for a free pizza unless there's a special. Also I was very upset when I realized that you no longer give point so I can get a free pizza for my Birthday, I was really looking forward to it, instead you give a cookie dessert, I don't want a dessert I want a large pepperoni pizza.