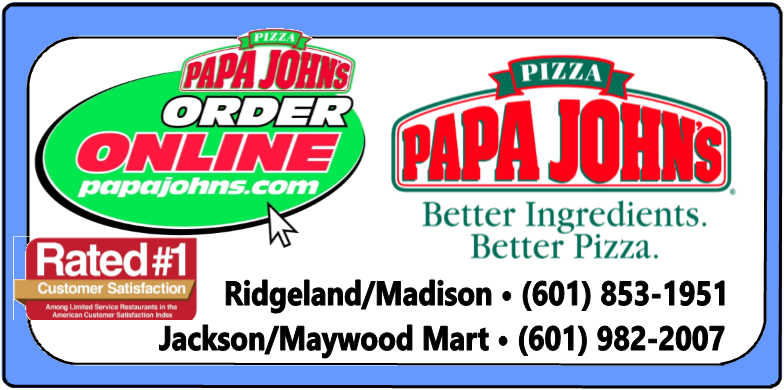 601-982-2007
Play
Man that looks delicious. Ordered one tonight. Unfortunately all I got was a normal barely cut crust.
Had our Friday Night Family Night with Papa John's Pizza and sides and Movie's. Always Awesome All the time.
I would order one but I can't get delivery at my location and I'm only 18 min out from the nearest papa johns. 😐
Can you please bring back the double cheeseburger pizza ???? Soon.... very soon ?? Please ? Or consider it adding to the menu permanently?
Papa John's that was close to me closed last month. So very sad.
The pizza was good last night but it took way longer to get here than it said it would.
I love you Papa Johns, when are you bringing back the cheeseburger pizza?
Can you get stuffed crust back? I loved your stuffed crust.
This pizza crust had no flavor when I ordered it. Could not taste the difference. Such a let down 🙁
Glad I had snacks seeing that it's been an hour and twenty minutes and still no food 🤷🏻‍♂️
Agree with everyone...not impressive. Not worth the upcharge.
Please Close Thse 4 Underperfoming Locaitons, Robbinsdale, MN, New Haven, CT, San Fransisco(Sutter), CA, And Des Moines(Ecliud), IA.
Garlic Parmesan crust but no stuffed crust? 🙁
Your new commercials are terrible. The guy sounds like a Colonel Sanders impersonatior doing a KFC spot.
Just got one in Georgia and I should of got DiGiorno
On #PapaProfiles this month, we are celebrating National Veterans and Military Families Month. We love this build on what "Better" means to Curt. ... See MoreSee Less
I haven't had Papa John's in like 2 years because the only store near me closed down so now I'm stuck with Domino's whenever I don't feel like cooking
We love Papa John's Pizza and have never had a problem with our order. Thank you for honoring our Veterans.
With the recent experience I had recently I will not be going to Papa John's for my future pizzas. While I love Papa John's, the experience has left me very dissatisfied.
Still "making a pizza" that was supposed to be ready more than 15 mins. The app and email pickup time is very wrong. It's never a good time to sit and wait with hungry kids.
Ordered tonight and it was late by 15 minutes and didn't check until the guy left and my pizza was cold and wings weren't burnt and very little bit of sauce. 😥 we love papa johns and love the wings but this happened last time we ordered them. Burnt and hardly any sauce..... very frustrating.
Is Papa Johns planning on binging back the cheese burger pizza any time soon??
Did you guys change your number? We didnt get our whole order this evening and I have been calling to get it corrected but there is no answer
Do we not get rewards when the 6.99 carryout deal is used
Don't replace wrong pizza waited 2hrs said was really behind ordered 1lrg everything pizza but no onions put a ton of onions on it sad sad 😢
Did you guys stop using promo codes for when your professional sports team win? Cuz they don't work
Both P.J. and Domino's pizza are pretty damn good, but Pizza Gut not so much, at times!
Bring vegan cheese to Papa Johns in USA!
Good people?Great. But wish one person in charge would listen when I keep telling you,the teeny bits of canadian bacon you put on your pizza are inferior.You need to use slices. Even my grown kids agree. People say they'll pass on the info,but it falls on deaf ears.