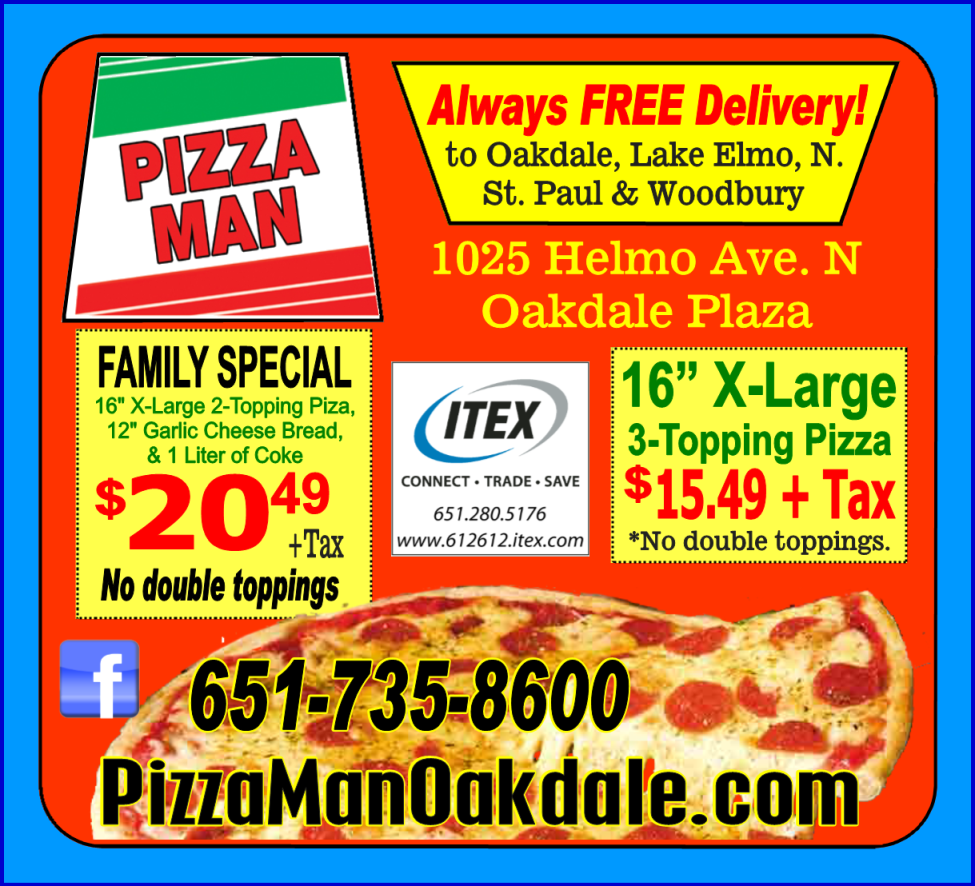 651-735-8600
DAILY LUNCH BUFFET - All you can eat pizza, salad and soda for $7.99!! (Available 11-1:30 Monday through Friday) ... See MoreSee Less
🍕 ... See MoreSee Less
WIN A FREE $40 GIFT CARD - GUESS THE SCORE 🏈

**RULES** Prior to kickoff (12 pm, Sunday 10/14) you must:

1) GUESS THE SCORE AND WINNING TEAM
2) LIKE OUR FB PAGE (if you haven't already)
3) LIKE THIS POST

If there is more than one correct guess, we will randomly choose a winner from the pool of correct guesses to determine who wins the prize.

One guess per person. Edited posts will not be counted. If you'd like to change your guess, please delete your original post and guess again prior to kickoff.

GIFT CARD ONLY REDEEMABLE AT OAKDALE PIZZA MAN

Good luck! ... See MoreSee Less
We had multiple correct guesses this week so by rule, we randomly draw our prize winner out of the pool of correct guesses. Congrats to Samantha Bogacz-Maaske on being randomly selected! You have one month to pick up your $40 gift card 🙂 Thanks for playing all - more contests coming soon!
Please take a moment to double check that you've followed all 3 steps: **RULES** Prior to kickoff you must: 1) GUESS THE SCORE AND WINNING TEAM 2) LIKE OUR FB PAGE (if you haven't already) 3) LIKE THIS POST Good luck!
Contest is now locked. No new guesses will count. Good luck!
Vikings 27 - 17 Cardinals
Vikings 27 - 17 cardinals
Vikings 31, Cards 17.....
Vikings 30 - Cardinals 16
Vikings 31 - 17 Cardinals